Michael and Alicia Vandeven,
Owners
Mike and Alicia purchased the business from Fred and Betty Beussink in 2011.   Mike began working for the prior owners in 1999, so his years of hands on experience in shop has prepared him well for managing the business.  Mike and Alicia take pride in continuing the ethics that have always been associated with the Beussink name, ensuring that customers continue to be put first.
Mike and Alicia are natives to the Leopold community, having both graduated from Leopold High School.  They married in 2008 and now have 3 beautiful children; Jocelyn, Hunter, and Laramie.
When Mike was a young boy, he knew that he wanted to be a mechanic and even dreamed of owning his own shop.  He rebuilt his first chevy small block engine at the age of 13, with the help of a relative.   Mike now manages the front end of the shop and helps in the back as needed.
Alicia graduated from Southeast Missouri State University and had over 12 years of experience working with the public before becoming a part of Beussink Transmission.  Although most of her time is spent at home with their children, Alicia oversees the accounting and marketing aspects of the business.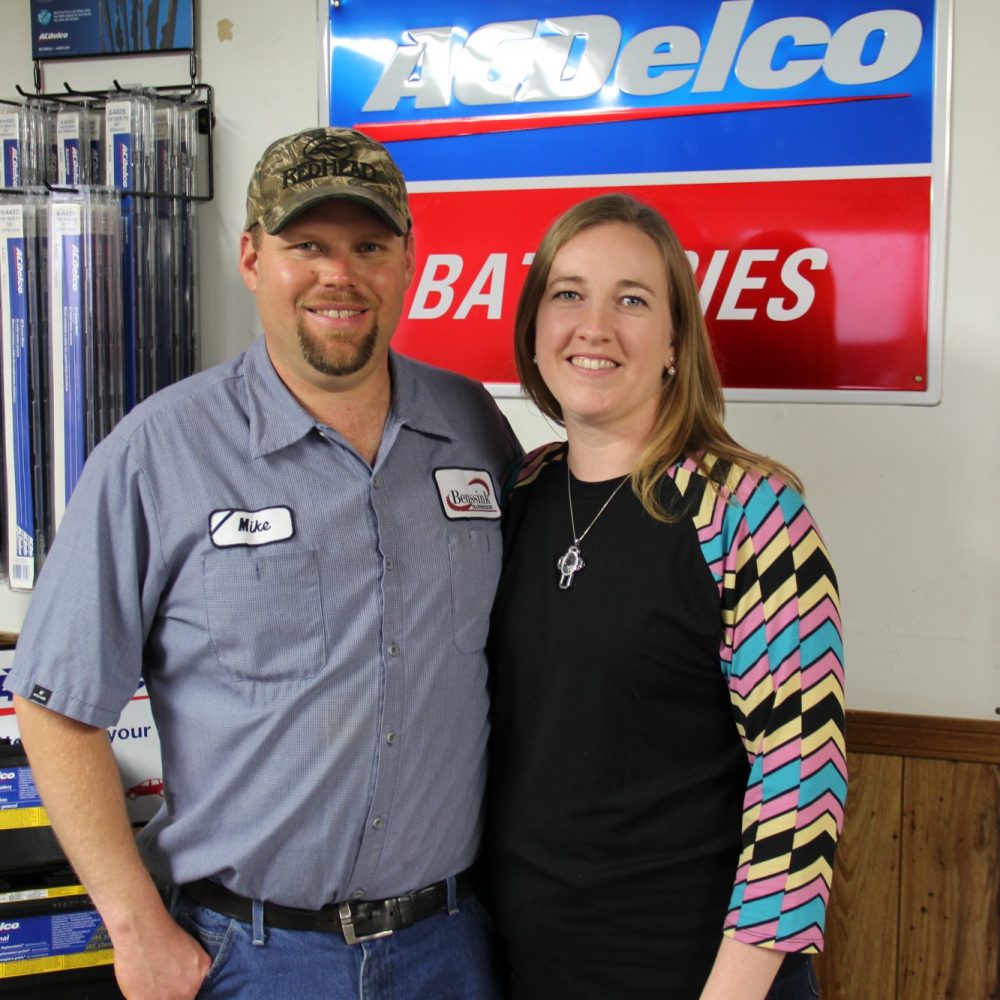 John McWilliams, Transmission Technician
John McWilliams has been a technician at Beussink Transmission since 1992.  John is married to Joan (Beussink) McWilliams and is the son-in-law of the prior owners, Fred and Betty Beussink.  John and Joan have four grown children; Chris, Diana, Brian, and Andrew.  They have 3 grandchildren, Aiden, Aubrey, and Sophia.
John grew up in sunny California.  He and Joan met in the Army and moved to the Leopold area in 1992.  John and Joan continue to live in Leopold and enjoy spending time with family and friends.  John is a dedicated team member and is often the first to arrive and the last to leave each day.
Jason Liley, Transmission Technician
Jason was born and raised in Bollinger County where he continues to live with his wife, Sharon, and their children.  Jason is strong in his faith and enjoys studying the bible and spending time with his wife, 4 children, 5 stepchildren, and his grandchildren.  Him and his family enjoy the outdoors, raising horses, and taking rides on their side-by-side.
Jason is an excellent transmission technician.  He started in the transmission business in 1997 and over the last few years has further expanded his knowledge of general repair and maintenance.   He is our go-to for shop organization and keeping things tidy.  In recent days, he's been helping more and more in the front office as well.  In Mike's absence, Jason is the man in charge.
Buzz Francis, General Automotive Technician
Buzz joined the Beussink team in October 2015 after a few years of experience in the automotive industry.  He typically has a hand in working on most jobs that come through our shop in one way or another, whether he is the main guy on the job or  is in more of a removal/installation role.   Buzz is always eager to learn, so he is continuously expanding his knowledge and has become an important part of our team.  It didn't take long after Buzz joined our team to learn of his computer skills.  He is now our go-to for any technical issues in the office as well!
Buzz and his wife Maggie, married in 2016 and reside in the Leopold community.  They have 3 children and are expecting another boy in June.  Their children are Gavin, Jr., and Gauge.  Buzz and Maggie are eagerly awaiting the arrival of baby Ben!
Aside from spending time with family, Buzz enjoys singing and strumming the guitar.  In the near future, Buzz has agreed to give Mike some guitar lessons!